Team news
There have been many positive developments on the personnel front in the past year. For example, we have welcomed a host of new colleagues and some senior employees are preparing to become partners. We celebrate a series of working jubileesies. We said goodbye to a few colleagues, but that is a natural process in a larger team. Because many of our relations have a personal connection with our colleagues, we thought it good to give an overview of the developments.
New colleagues
Because we can welcome new customers and existing customers increasingly outsource work to us, VORtech has been looking for many new colleagues in recent years. We are grateful that we have succeeded in finding great employees, despite the highly competitive job market.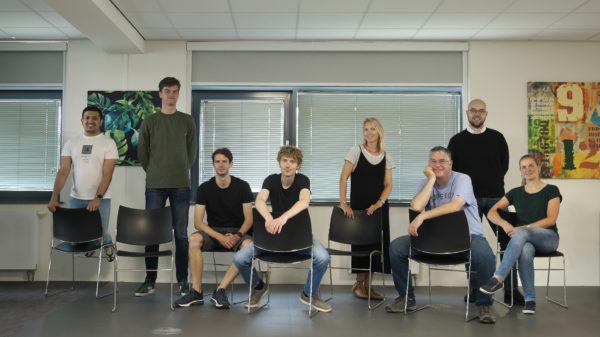 We would like to introduce the new colleagues to you (from left to right):
Saleem Sarwar studied software engineering at Rotterdam University of Applied Sciences, where he did his graduation internship at VORtech with a study into databases for large-scale data. This went so well with each other that he subsequently joined VORtech;

Joris Bentvelsen started working at VORtech earlier this year after studying econometrics in Rotterdam;

Aldo Hennink specializes in nuclear physics and obtained his PhD in fluid dynamics, after which he joined VORtech in August;

Sjoerd Geevers started at VORtech more than a year ago as a scientific programmer after a PhD and postdoc work on acoustic, seismic and electromagnetic waves;

Marijke Kuipers came to support the administrative team in the field of HR and Marketing & Sales. After working at TNO for years as a (executive) secretary and having been home for the children for several years, she now works one day a week at VORtech;

Peter Bossers joined VORtech for system management. He has very extensive experience in this area, especially for the Linux environment;

Max van der Kolk started at VORtech in early 2022 after doing research in the field of topology optimization at the TU Delft and working as a scientific programmer at the University of Amsterdam;

Anne Markensteijn obtained her doctorate in modeling integrated gas, electricity and heat networks and then started at VORtech.
Goodbye
Last year we said goodbye to three colleagues. Matteo Giani wanted to develop further in a number of techniques that are rarely used within VORtech. Alouette van Hove emigrated to Norway with her husband and has now found a nice PhD position there. Niels van der Wekken has made the switch to a company that suits him better in terms of working methods. We thank them for their contribution to VORtech and sincerely wish them every success in their further development.
Partners
At the beginning of 2022, Edwin Vollebregt sold his shares in VORtech to the partners. As a result, the partners now all own a large part of the company. Mark Roest has also sold some of his shares and has now become a minority shareholder. Werner Kramer and Maarten Bosmans have indicated that they want to become partners and have now been given the status of candidate partner by the partner consultation. This normally leads to an appointment as a partner within a year. More information about the organization of VORtech and the partnership can be found here.
Jubilees
We're celebrating a series of 10-year working jubilees this year, partly postponed due to the Corona pandemic. The jubilarians are Marieke Dezaire, Koos Huijssen, Maarten Bosmans, Lian de Krieger, Werner Kramer and Eli van Es. We are proud that these colleagues have been working for us for more than 10 years.
Work experience place
Jan-Willem Krans has worked at VORtech for the past six months as part of a work experience placement via UWV. He has written software for a biochemical calculation model for the University of Leiden, and has performed optimization work on a static program of the University of Wageningen. We are pleased that in this way we were able to give Jan-Willem a great opportunity to gain work experience in the field in which he specializes.
Sponsoring
VORtech offers sponsorship for employees who are actively involved in a social cause. In the past, for example, we sponsored a participation in the Alpe d'HuZes and activities by a colleague to let primary school students build robots. This year VORtech contributed to the celebration of the centenary of muziekvereniging Caecilia Schipluiden, where our management assistant Marieke Dezaire has been a board member for many years.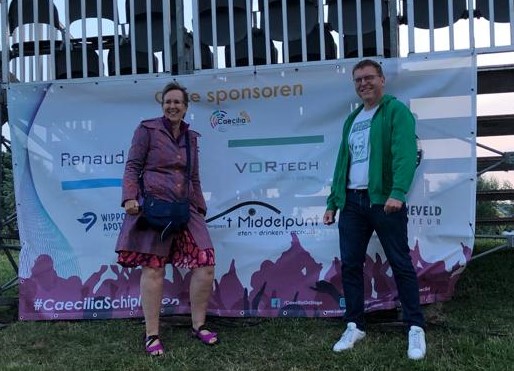 On the left our Marieke Dezaire, and on the right our colleague Johan Meijdam who also visited the anniversary concert.